Domain Settings
Administration module allows users with Domain Administration rights to edit domain settings for their domain.
On the landing page when you open Settings, you can see the basic domain information and the Settings part where you can navigate between the following tabs:
Overview
Under the "Overview" tab all the settings that were changed will be listed. If default values are left for all settings, then the Overview tab will be empty as seen above.
General
The following settings are available under General tab:
Domain Administration

Domain Admin
Create, edit and delete users (domain admin only)
Edit domain settings (domain admin only)

Computer Groups 

Create computer groups
Edit computer groups
Delete computer groups

My Profile

Edit full name
Edit e-mail
Edit nickname
Change time zone

Admin notes
Security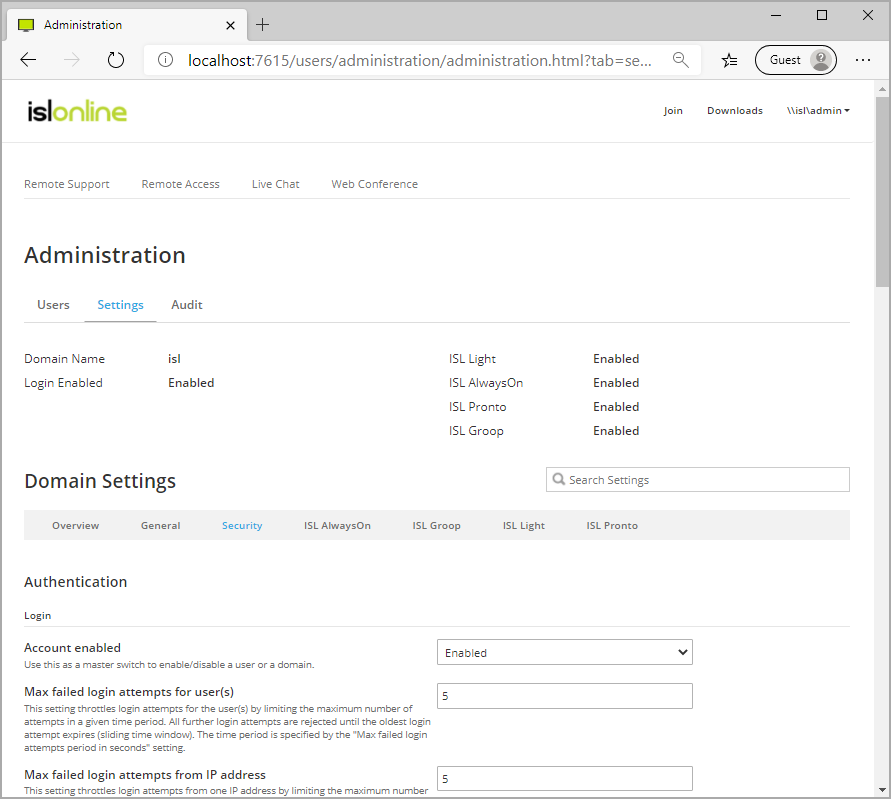 The following settings are available under Security tab:
Login

Account enabled
Max failed login attempts for users(s)
Max failed login attempts from IP address
Max failed login attempts period in seconds

Two-factor Authentication

Login without configured Two-Factor Authentication
"Don't ask again on this device" option for 2-Factor authentication

Password

Change password
Minimum password length
Maximum password length
List of custom special characters
Minimum number of custom special characters required in passwords
Minimum number of uppercase characters required in passwords
Minimum number of lowercase characters required in passwords
Minimum number of digit characters required in passwords
Allow passwords to start or end with whitespace
Reject passwords from password_blacklist.txt

User Sessions

View own session
Control own session

Domain Sessions

View domain sessions
Control domain sessions
ISL AlwaysOn
The following settings are available under  ISL AlwaysOn tab:
ISL Groop
The following settings are available under  ISL Groop tab:
ISL Light
The following settings are available under  ISL Light tab:
Basic
IP Filtering

Desk code request IP filter

Remote desktop

View Remote Desktop
Control Remote Desktop
Share My Screen
Control My Screen
Clipboard

Files
RDP / SSH

Enable Jumpbox functionality
Enable client-side tunnel creation
Enable operator-side tunnel creation

Plugins

Desktop plugin
File transfer plugin
Video plugin
Audio plugin
Printing plugin
Recording plugin
ISL Pronto
The following settings are available under  ISL Groop tab: